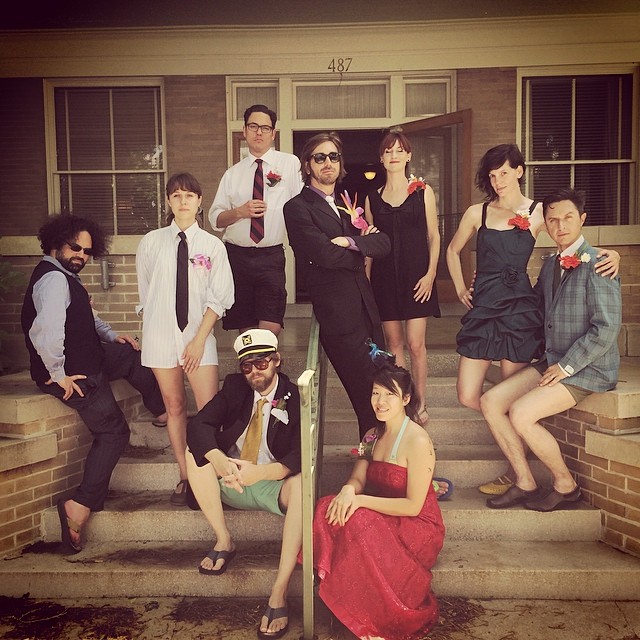 This weekend, we celebrated my boyfriend's half birthday.
I had a written the story as to why we celebrated his birthday in May instead of on his actual birthday in November, but when I read this post to him, he said, "You don't have to put EVERYTHING on the Internet." And because I don't want him to break up with me, I decided to not tell the story. I love you, Geoff. Please don't break up with me.
Because we celebrated Geoff's birthday in May, it enabled us to do one of his favorite activities in the world: tubing. However, his tubing birthday extravaganza had one stipulation: everyone must wear formal wear.
This is why I love my boyfriend. He's weird as shit. I thought I was weird, but he takes the weirdo cake and devours it whole. You're awesome, Geoff. Please don't break up with me.
We rented a house in New Braunfels for the weekend that could fit 12 of us, and we ended up renting a mansion right on New Braunfel's main drag (and within walking distance to the Comal River and Schlitterbahn!!!!111111111) We had no idea the house we rented was going to be a mansion. We walked into the house to discover seven bedrooms, 16 closets and nine front and back doors on the first level. I know there were nine doors on the first level because at some point in the middle of the night I walked around the entire house checking all the locks, and then I did it again a few hours later. The mansion was built in 1912 and boasts a pool, hot tub and giant carriage house that sleeps six people. It also takes up one acre of downtown New Braunfels. WE ARE KINGS. LOOK AT OUR BREAKFAST NOOK!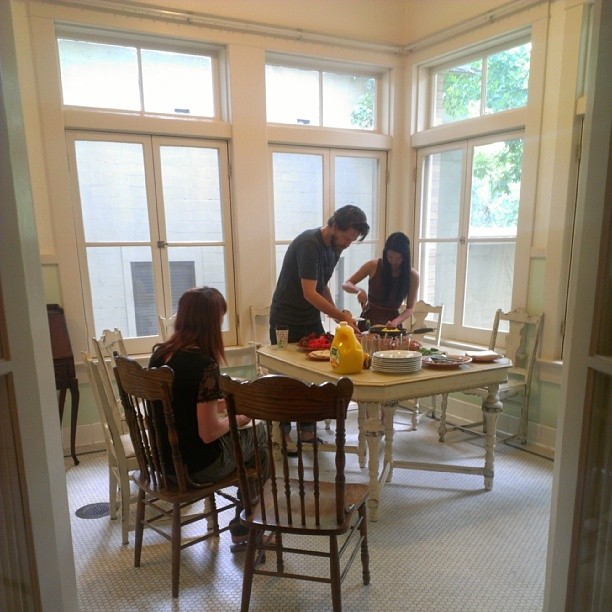 We were an awesome group of people. There was the gorgeous and witty Australian, the hysterical and adorable Vietnamese, the Cuban director, the video game animator who has more energy that all of us combined, the beautiful bacon eater, Geoff's married architect cousins who looks like they stepped out of an H&M ad, the dandy producer (self-described title!), Geoff and I. We had a a number of guests who stayed for part of the festivities, but the folks listed above were in it for the long haul. And the only reason I describe these people to you is so you can guess which one came up with the phrase "poopurbating," which one peed in the river but had to take their shorts off first (don't worry pee-er, I won't share your secret) and which one ate a ziplock bag of cold and wet bacon on the river. Also, I'm sure my friends love that I generalize them in the stories.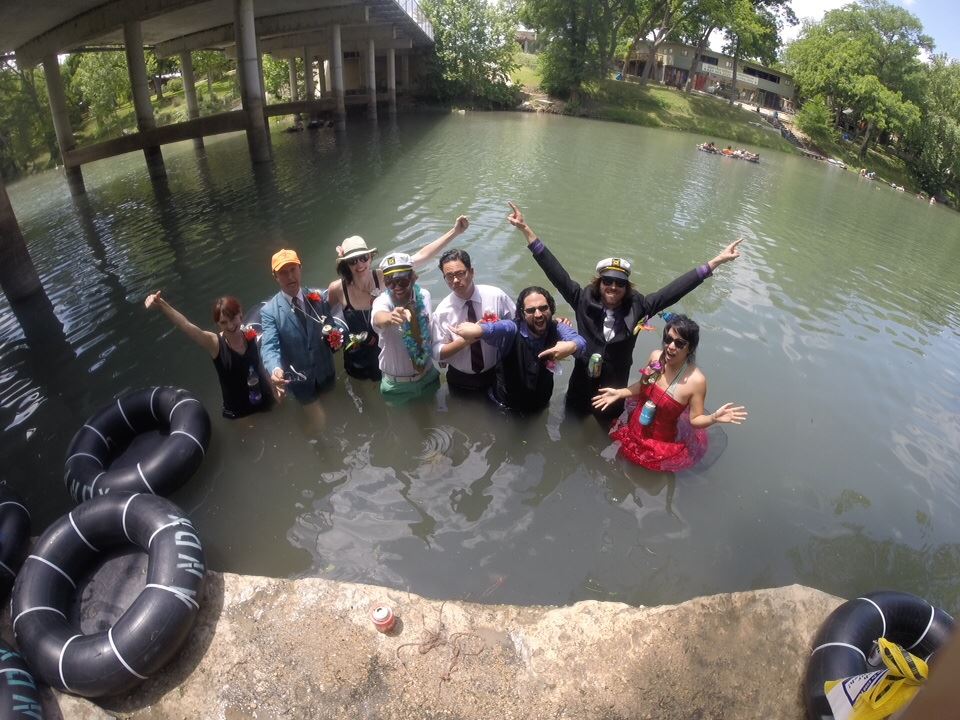 Oh, and if you're wondering what poopurbating is, it's exactly what you think it is. It's the act of pooping and masturbating in the river simultaneously. No one in our group actually did that.
What our group did do was wear formal wear in the river- full ball gowns, tuxes, ties and hats. The beautiful bacon eater even had a peacock attached to her head the entire tube trip. She ate a bag of wet bacon, had a peacock strapped to her head and wore a punk rock quinceanera dress. HERO.
If you've never been tubing, you must go. It's the quintessential Texas experience. But if you really want to take it up a notch, go to Goodwill, buy the crappiest formal wear you can find, put it on and jump your ass into the closest Texas river. I recommend checking out the San Marcos River in San Marcos for a quick tube and the Guadalupe River in New Braunfels for a scenic tube.
So, how does it feel tubing in heavy clothing, you ask? Cold as shit, but mostly relaxing and pride-inducing. You see, if you can swing from a rope swing in a red quinceanera dress with a peacock attached your head- that doesn't fall off after you hit the water!– or swim in a captain's hat and full tuxedo with a purple shirt and yellow tie, you feel pride in yourself.
If you want to join us sometime, let me know!