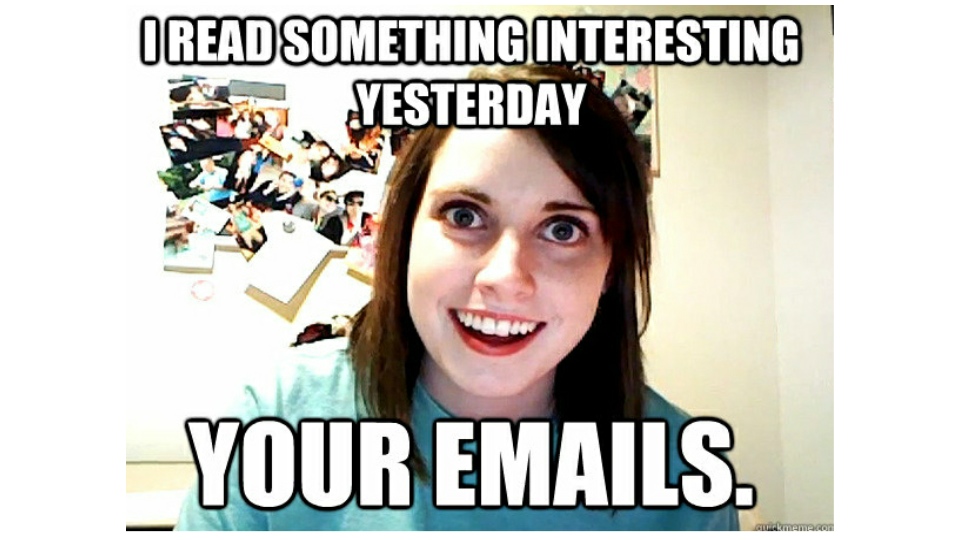 I rarely talking about dating on this blog (I used to more often when I was an early twenty-something hot, steamin' pile o' mess and dated a bunch of douchebags), but I don't pretend that I know any more than anyone else about anything in life. We bloggers sometimes get all high and mighty about telling people what to do- wear this outfit! eat at this restaurant! stare at this picture of my child AND cat!– but in this case, I feel compelled to jump up on my wobbly Ikea-made soapbox and reprimand some of my lady-folk (<– this paragraph is my disclaimer in case I get attacked).
Ladies, I've been hearing more and more stories lately about beautiful, smart, electrifying and sensational women who get all crazy-like and start peeping through their completely trustworthy boyfriend's phone or freaking out when he has lunch with a lady-friend or exchanges words with an ex he's on good terms with. Some of these stories are shared by the women themselves, while others are shared by disgruntled boyfriends.
Quit being a fool, yo!
It's unattractive and it's going to hurt your relationship. Deep down, you already know this because you're smart (and beautiful and wonderful).
But somewhere deep down, your insecurities are trumping all the brains and beauty.
If you're with a good guy, and you probably are because you're smart and beautiful, you need to trust him. You have to give him the benefit of the doubt. Unless you've caught him soliciting sex to others on Craigslist or he's keep a scrapbook of his ex-gf , don't assume that he's going to fail you.
I'm saying this not because I'm such a wise woman who has had perfect relationships (I've never been a jealous girlfriend, but between the ages of 20-25, I definitely had my drunk texting phase where one  minute I would tell the dude to get lost, and when he didn't respond 60 seconds later, I would text him that it's OK if he wanted to come over AND I dated many, many men who failed me because I went after those men), but because I want all the smart and beautiful lady-friends out there to know that they're totally worth it and they need to kick that insecurity to the curb. Give yo' man (or woman) the benefit of the doubt, and if he fucks it up, that's when you can get all weird on him.
I'm also saying this 'cause you're going to totallllly f up your relationship. If you haven't noticed, men don't like being treated as though they're under interrogation on a regular basis. You wouldn't either. You have male friends, right? So why can't he have female friends? You're friends with some of your exes, right? So why can't he? You trust yourself and he trusts you, so why can't you trust him?
WHYYYYY?!?!
I have heard a couple of stories of smart and beautiful lady-friends (the kind that men chase after) looking through their boyfriend's phones because…who knows why? Even when one of them found something that made her a little uneasy (her boyfriend had been platonically texting with his ex), she couldn't tell him because she didn't want him to know that she had been looking through his phone. Now she had all this anxiety stuffed inside her brain that she couldn't release. Don't do that to yourself, ladies! Again, unless you catch him chasing an American Apparel employee with his pants around his ankles or he tells you that he's "polyamorous," chill the f out. I'd like to point out that both of these ladies are no longer with their partners because you can only sustain that sort of anxiety/insecurity in a relationship for so long. Even if you don't give a shit whether or not how this affects your boyfriend, just think about how it affects you. Are you stressed all of the time thinking about it? Wouldn't it be nice to be relaxed?
OK, I'm climbing down off of my soapbox now.
Ladies, let's get our shit together. We're awesome. Remember that.