I've seen a number of Austin restaurant "best of" lists over the past few weeks, and I don't know about you, but they frustrate me. Most of the restaurants listed are expensive, at least in Austin standards. They're the sort of places I can only afford to eat at once or twice a year. Though I appreciate good food, when you are a working-class individual, dropping $50 per person at a restaurant can nearly cause a heart attack.
Even when it isn't the end of the year, the same restaurants show up on the "best of" lists for Austin. I'm not going to name those restaurants here because I'm sure they're all delicious and run by hard-working individuals. They deserve the attention they receive, but so do some of the less famous and cheaper restaurants that are sprinkled throughout Austin.
Below is my list of great Austin restaurants for people who make under 40k a year. These are the eateries where you can still spend $10-$15 per person and have a great time. To me, these spots are what made Austin, Austin.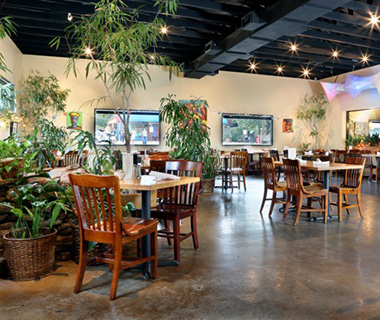 (Via Travel & Leisure)
1.) Mother's Cafe
4215 Duval St.
512-451-3994
Price: $8-$11
When my friend Hannah and her boyfriend, Colin, visited Austin for the first time in October, she asked me where to eat. I immediately scanned my internal list of Austin hot spots, but quickly came to the conclusion that Mother's is one of Austin's quintessential eateries. If I ever take a visiting friend or family member to this vegetarian/vegan comfort food spot, whether they're vegetarian or not, they fall in love with its delicious fare. What is there not to like about Mother's? Every time you eat there, you feel like you're hanging out in your hippie-yogi friend's living room. Their homemade veggie comfort food boasts faves like TVP sloppy joes, tofu BBQ, spinach lasagna and vegan almond mocha tortes. Don't forget to order a side salad with their mouth-watering, homemade cashew-tamari dressing. Even if you are a meat lover, I promise that you'll still love this joint.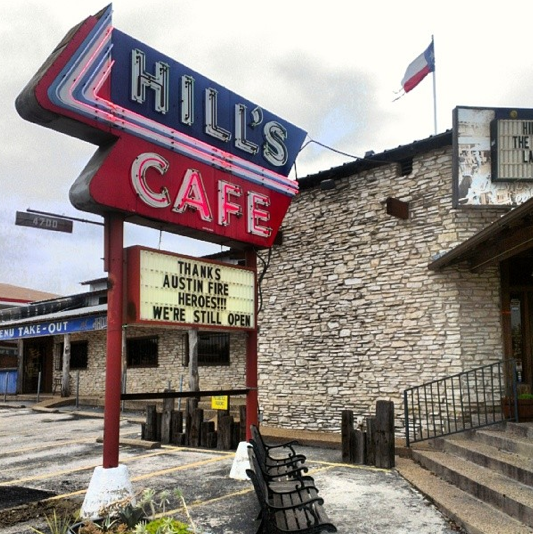 (Photo by me)
2.) Hill's Cafe
4700 S. Congress Ave.
512-851-9300
Price: $7-$14 ($14+ for steaks)
This Texas hangout has been alive and kicking for the past 66 years. Though Hill's Cafe has had its fair share of challenges these past few years, including risk of bankruptcy and a fire, they're still serving up the same delicious, Texas comfort food that fans love (side note: we ate here recently and was told that business was slow due to news of the fire, so please help support this local gem). With its wooden booths, animal busts and framed, old-timey photos smattered amongst the walls, Hill's Cafe looks more like a West Texas lodge than a South Congress eatery. The staff is as sweet as the delicious rolls they bring you right after you sit down. Must-try menu items include the 100% natural burger on kolache roll, mac & cheese with bread crumbs and triple pie sampler (apple, pecan and pumpkin). Bring your appetite here; prices are low and portions are big. Note: try to avoid the Rick & Anita Perry booth.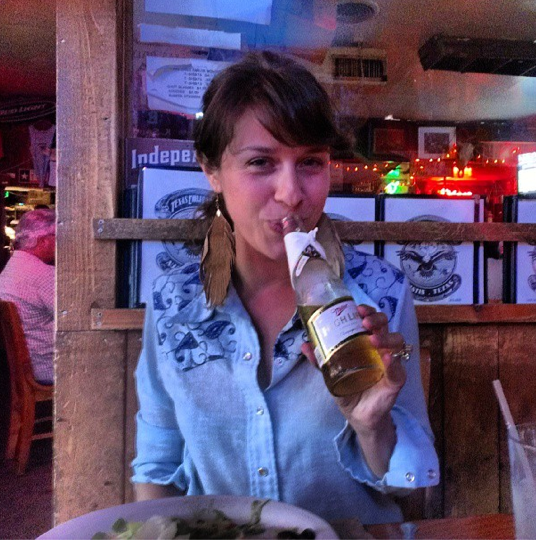 (The Champagne of Beers with a little bandana)
3.) Texas Chili Parlor
1409 Lavaca St.
512-473-28-29
Price: $6-$14, with most meals being under $10. 
When I want a break from all the Austin hoopla and take a trip back into time, I head to TCP. Famous for being a prominent location in Quentin Tarantino's Death Proof, the Texas Chili Parlor offers cheap drinks and no-frills chili, burgers and tacos for 1990s costs. Their inexpensive prices may startle you at first, and surprisingly, the low costs doesn't equate to low quality. Check out their Texican burger topped with refried beans, crushed Fritos and Hatch green chiles, and any of their homemade chili like white chili with pork, five-bean veggie or habenaro. My favorite meal is their two or three-combo plate with chili, salad or tacos for $6 or $7. Part of the fun of TCP is the ambiance; don't be surprised if you see a table of rowdy cowboy politicians downing liquor after a long day at the Capitol.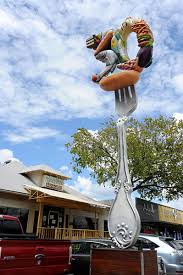 (Via Austin Chronicle)
4.) Hyde Park Bar & Grill
4206 Duval St.
512-458-3168
Price: $7-$17, with most dishes being between $9-$12
If you're looking for comfort food in a slightly classier atmosphere, Hyde Park Bar & Grill in Hyde Park is one of the best. Though their second location at 290 and Lamar is nice too, it's this old-timey house affixed with local artwork that really warms your heart. Also, the staff and management are some of the friendliest in town. Must-try menu items include their daily, homemade soups, the Texas Horseshoe (Texas toast topped with ground chuck, cheese sauce and fries) and the pimento cheese and cucumber sandwich. HPBG also wins yearly accolades for their unforgettable buttermilk-battered fries. We get a small order every time we eat here. And then we waddle home, fall asleep and drool.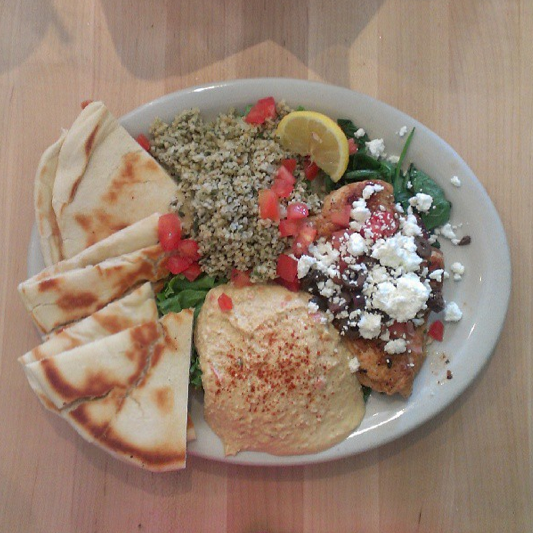 (Greek chicken plate at Kerbey Lane on Guadalupe; photo by me)
5.) The Omelettry/Kerbey Lane/Magnolia Cafe
Multiple locations (see links below)
Price: $6-$12
Some of you are going to roll your eyes at one, two or all three of these choices, but too bad. Whether or not you like the food at the restaurants listed above, Austin wouldn't be what it is without them. How many other cities have multiple diners/cafes that feature local, organic or health-oriented diner fare for breakfast, lunch, dinner and after hours? I put all three restaurants in one bracket because they're all part of the same culinary family. The Omelettry is the only diner that isn't open 24/7, but offers as delicious, "homegrown" breakfast, sandwiches, soups and salads just like Kerbey Lane and Magnolia Cafe. Must-try menu items include Kerbey Lane's Kerbey Queso with queso, guacamole and pico de gallo, Magnolia's gingerbread pancakes and The Omelettry's homemade soups. I know that I feel lucky that I can eat healthy and cheaply after 10PM in Austin because of Kerbey and Magnolia.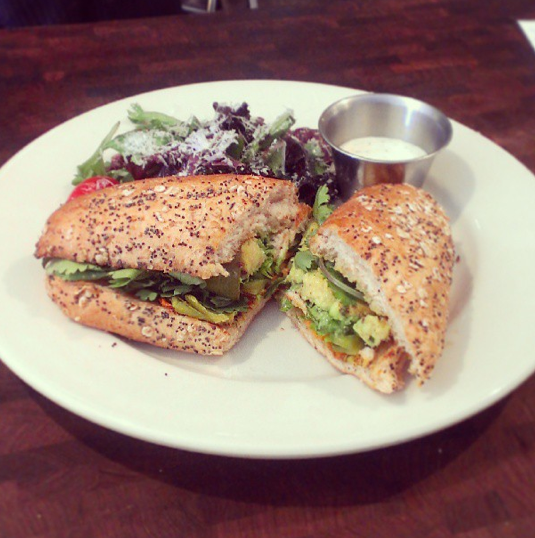 (Avocado banh mi special; photo by me)
6.) Counter Cafe
626 N. Lamar
512-708-8800
Price: $7-$13
Though located in a the touristy intersection of 6th and Lamar, this shoebox restaurant is arguably a locals' spot. Maybe it has something to do with its minimal hours (7:30AM-4PM) and tiny square footage (this diner is good for single or two-person parties). Counter Cafe is so good, it's been featured on shows like Diners, Drive-ins and Dives and their burger was named one of the best in Texas by Texas Monthly Magazine. This divine eatery stresses the importance of local and organic ingredients with food made fresh to order (expect at least a 15-20 minute wait for your food). Must-try menu items include their organic beef burger on sweet roll, breakfast taco with nitrate-free bacon, organic eggs and homemade salsa and hot pimento cheese sandwich. If you're a local and haven't eaten here yet, do yourself a favor! Grab a seat at the counter and watch all the action in their open kitchen.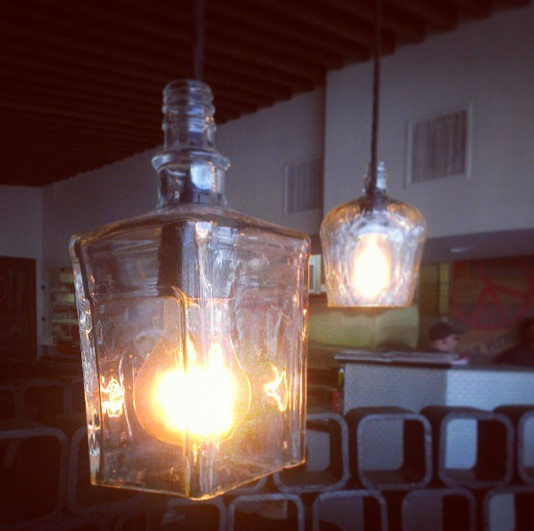 (Photo by me)
7.) Pizza Bistro
2401 Lake Austin Blvd.
512-478-6600
and
12001 Burnet Rd.
512-832-5550
Price: $7-$27, with most entrees and pizza ranging between $10-$15
Everyone has their favorite pizza place in town, and Austin does have some pretty great pizza. If you haven't been to Pizza Bistro yet, formerly known as Mangia, then you're truly missing out. Many make the mistake of thinking that this pizzeria and Italian food joint strictly offers Chicago deep dish, but that is false. Pizza Bistro has some of the beast thin crust in town AND features an array of unique toppings and sauces (try the tomatillo or BBQ sauce!) Other delicious food items include their brisket and short rib bolognese on spaghetti, stuffed burger with blue cheese and pancetta and French onion soup. Considering Austin is short on the comfort Italian food, Pizza Bistro definitely picks up the slack.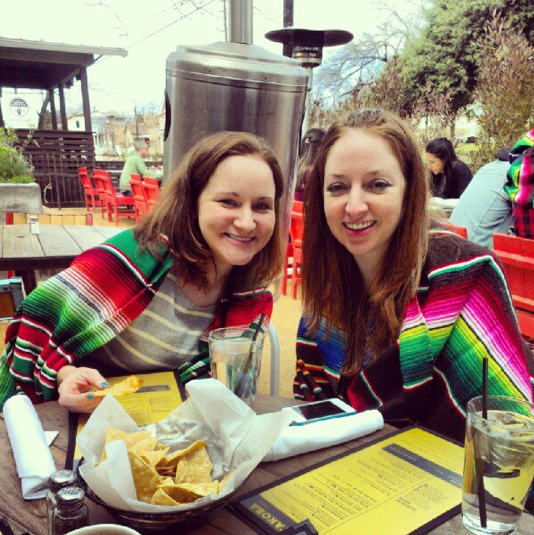 (Photo by me)
8.) Takoba
1411 E. 7th St.
512-628-4466
Price: $6-$12.50
Takoba is arguably the newest and most "hip" restaurant on this list, but it doesn't let its prime location in East Austin go to its head. What makes this Mexican cantina so great is their romantic ambiance and delicious food and drinks that don't cost and arm and a leg.  Takoba is also a great late-night eatery, hangout for Sunday brunch or a place to bring your dog (their vast outdoor patio is great for the summer months). Must-try menu items include their tangy ceviche, spicy pozole rojo, salmon and cream cheese torta and French toast with caramelized bananas in honey. My favorite dish is their veggie tacos with spinach salad and soup. If you like to get your booze on, try their delicious margaritas made with homemade fruit puree.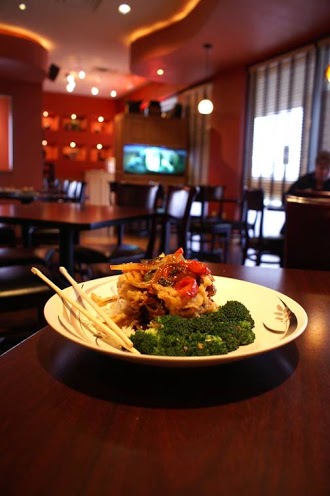 (Via Google +)
9.) Ka-Prow Thai & Sushi Bistro
1200 W. Howard Ln.
512-990-2111
Price: $5-$15, with most rolls and dishes ranging between $8-$12
The Thai restaurant Titaya's would have been on this list if it was still open, but unfortunately, it's not. And sadly, news on the street is that it's going to reopen with a more upscale menu. Being a fan of Thai food, I've found my Titaya's replacement in Ka-Prow, a North Austin Thai/sushi restaurant off of Howard Lane. If you haven't been to this delicious eatery yet, you are truly missing out. As a person who enjoys eating tofu in Thai cuisine, Ka-Prow's tofu has the same flavorful taste and firm texture as Titaya's. Also, as a person who enjoys Thai food AND sushi, this eatery is a dream come true. I often order a roll and noodle plate and feel like the most happy, rotund person upon completion of my meal. Must-try menu items include their pad se ew, green curry and veggie tempura roll with fried tofu. Chef O and his staff are a delight.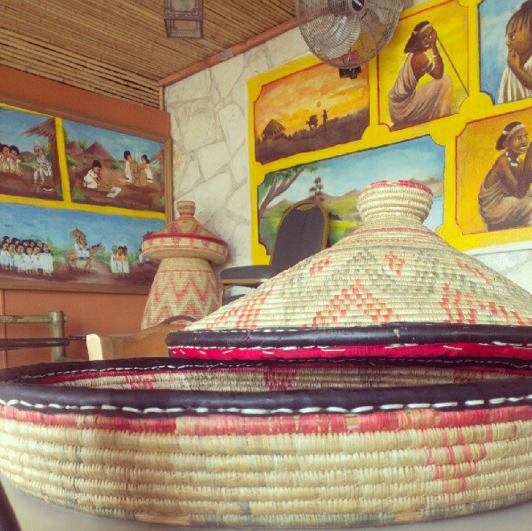 (Photo by me)
10.) Taste of Ethiopia
1100 Grand Parkway, Pflugerville
512-251-4053
Price: $6-$12; $18-$20 for combos that feed multiple people
Another North Austin treat, Taste of Ethiopia, is no secret amongst foodies. Owned and operated by the sweet Woinee Mariam and her husband Solomon Hailu, Taste of Ethiopia arguably has the best Ethiopian fare in town. Must-try menu items include their honey wine, azifa appetizer made with lentils, onions, horseradish, jalapeno and lemon and lamb tibbs. Make sure to stock up on their addictive injera too! We always order the vegetarian combo for four that includes string bean stew, spiced cabbage, stewed eggplant, split peas in herbs and zesty lentils. Check out their lunch buffet for a selection of their meat and vegetarian delicacies. This is a great place to bring friends and family, and the fact that you can eat the food with your hands makes the experience of eating all the more blissful.