A few days back, the Facebooks was a'flitter with news that Nicolas Cage was chowing down at East Austin's french bistro Justine's Brasserie. I contemplated heading down there to get a glimpse of the Dazzling One, but figured I would look as creepy as his hairline by doing so. In fact, there was a small part of that was afraid he'd go all Bad Lieutenant 2-style on me if I said hello.
I still haven't figured out why Nic Cage was in Austin or if he is even still here, hiding behind a dumpster and shouting unintelligible words at homeless people for fun. Theory is he's in the new Terrence Malick film shooting here (that is every Austinite's answer for when they spot a celebrity), but I can't imagine Malick casting someone like Cage for his highly intellectualized dramas. Cage is way too good of an actor for that stuff.
The Cage spotting got me thinking about all the celebrities that live in Austin or enjoy frequenting Austin. There are a slew of them. Some are from the great state of Texas or went to UT or shot a movie here and have always had a fondness for the capital city. Other celebs, like us regular folk, caught wind it was the next hip city and decided to set up digs here.
Below is a list of celebs you will often see milling about the ATX. Let me know who I'm leaving out!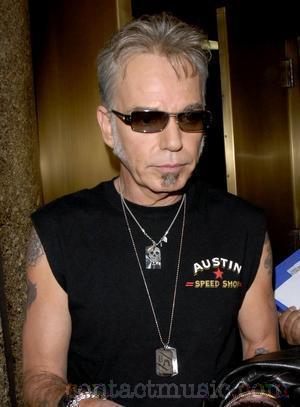 Several celebrities own houses here including Led Zeppelin's Robert Plant (rumor has it he likes to barter the price of cheese at Whole Foods), recent transplant and Austin lovin' Billy Bob Thornton, UT grad Matthew McConaughey and Dennis Quaid. I can't confirm Quaid's current housing status for his Austin realtor wife, Kimberly Buffington, recently filed for divorce, then retracted it.
Sandra Bullock's 2.5 mil digs
Sandra Bullock recently put her 2.5 million Barton Creek home up for sale, maybe in part because of her not-even-worth-mentioning-his-name-ex-husband bought a home here shortly after their divorce. The actress is still part-owner in the West 6th Street eateries Bess and Walton's.
Tennis star Andy Roddick and his model wife, Brooklyn Decker, live in a fancy-ass Lake Austin home equipped with hotel-style carpeting and questionable artwork.
Lance Armstrong proudly calls Austin home both for himself and for the Lance Armstrong Foundation (he owns other homes in Aspen and the Texas Hill Country).
Willie Nelson not only lives in the suburbs of Austin, his ponytails are featured on official Austin t-shirts at the Austin Visitor's Center.
Hollywood filmmakers Robert Rodriguez (Machete, Spy Kids, Predator), Richard Linklater (Slacker, Dazed & Confused, Before Sunrise), Terrence Malick (Badlands, Days of Heaven, Tree of Life) and Mike Judge (Beavis and Butt-Head, Office Space) all live here and shoot a good chunk of their films in and around Austin.
Various cast members of the now defunct Austin-based Friday Night Lights still live here including Kyle Chandler and Connie Britton.
Former news anchor and Texas-born Dan Rather calls both Austin and NYC his home (his daughter, Robin, is a well known environmental activist in ATX).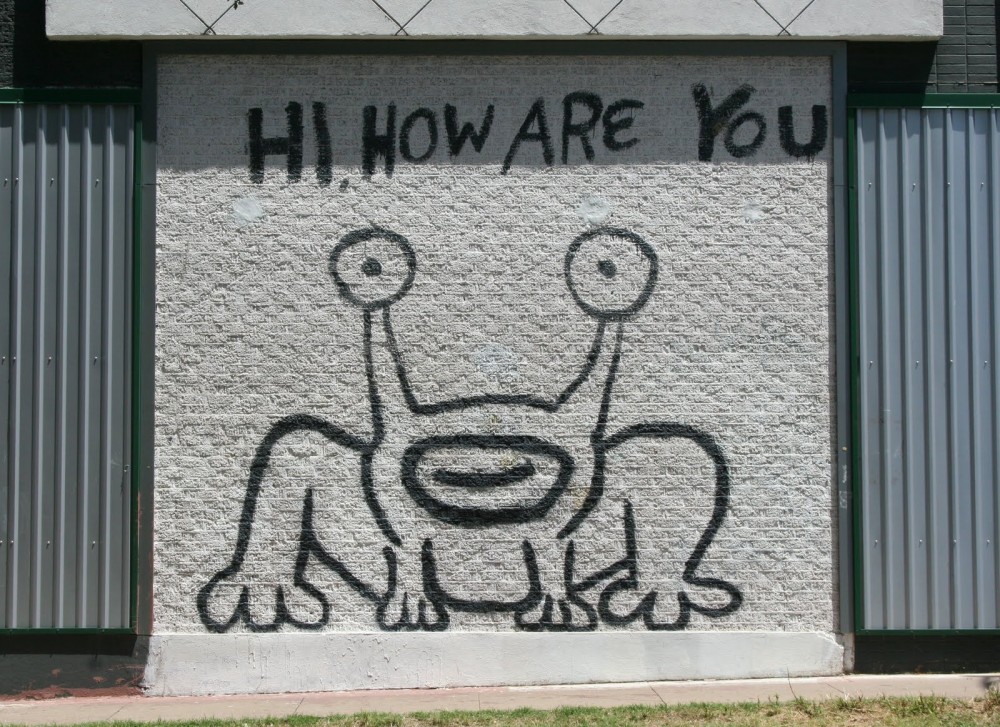 Musician, artist and schizo-extraordinaire Daniel Johnston has lived in Austin for decades and his famous "Jeremiah the Innocent" mural can be seen off of Guadalupe Street near the UT campus.
As for celeb sightings, Ryan Gosling and Christian Bale have been two of the most talked and drooled about as of recently. Both are starring in Terrence Malick's upcoming untitled film about a "love triangle set amongst the backdrop of Austin's music scene".
Drew Barrymore used to be a popular fixture here. Rumor is she had a bf here (Justin Long reportedly has a home here), but considering now she's married and with child, chances are we won't see her popping into the SoCo American Apparel as much.
The Dallas-born Wilson Brothers are common fixtures; Owen and Andrew went to UT and Luke really looooves Maudie's (who doesn't?)
People often report sightings of nymph-like Elijah Wood. I myself spotted him in a SoCo store and when I pointed him out to my mother, she yelled, "ELIJAH WOOD IS IN THE STORE?!" roughly five feet from his face.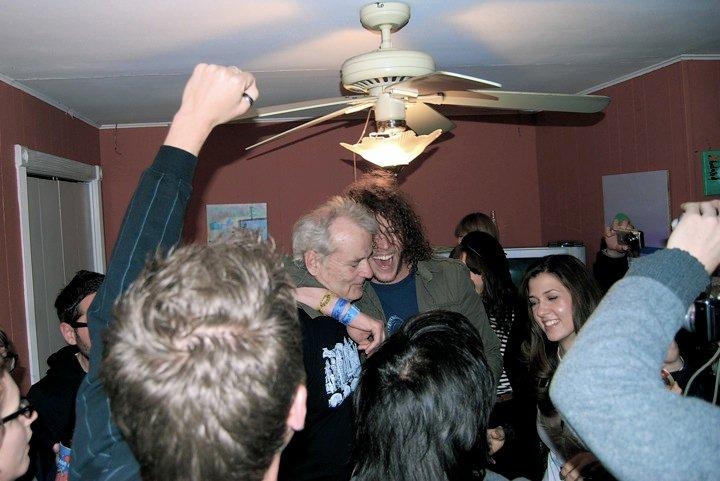 Bill Murray partyin' during SXSW
Of course there are the legendary Bill Murray stories. I'm not sure if he hangs out here any more than he does in other hip towns where he can get a lot of attention from young people, but we Austinites like to think that Murray thinks of us as special.
David Byrne, Quentin Tarantino and Jason Schwartzman also seem to show up here a few times a year.
Unconfirmed rumor: Kanye West has a condo in downtown Austin.