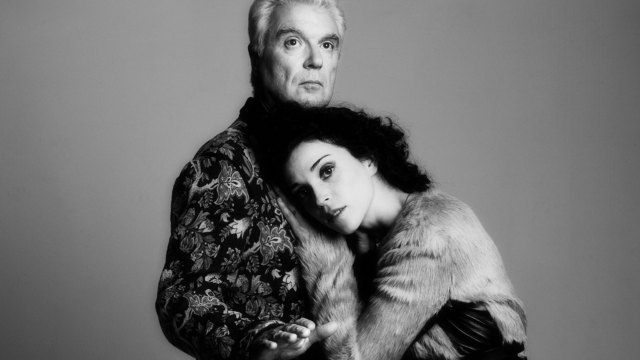 When the first single of David Byrne and St. Vincent's new collaborative effort, Love This Giant, hit the Interwebz a few weeks back, I made this face: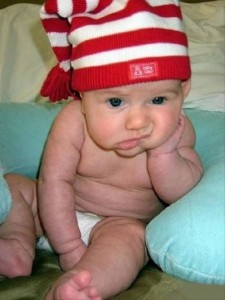 In fact, I wrote a small tirade suggesting that David Byrne, my numero uno creative God, should maybe stop trying to be "unique" and "special" all of the time (a pointless request, I know).  The single, "Who", sounded like noise to me and was quickly filed away in failed David Byrne attempts (alongside the albums Little Creatures and Feelings) and I forgot about it until Austin's most illogical and mentally sedated radio DJ, John Aielli, played it on KUT.
When I heard the song a second time, something strange happened. I kind of liked it. As the weeks went by, the song grew on me. I wouldn't say it's is one of my all-time favorite David Byrne songs (it would make an appearance as #53 on the list), but over time I started to get the song. Get what he and St. Vincent were trying to achieve. This was amplified by the incredibly weird and wonderful accompanying music video, which is worth watching simply for David Byrne's Stop Making Sense-esque dance moves and the fact that he looks like Colonel Sanders.
St. Vincent is always fun to look at.
The entire album is now available for streaming and I recommend checking it out if you're a fan of either musician. If you're hoping for some amazing musical marriage of the two, the album falls a little short. As Michael Roffman at Consequence of Sound points out that album feels more like "a divorce". No duets, no combining of creative forces; the duo sound separate in their attempts to out-weird one another.
When listening to the David Byrne songs on the album, I was reminded of Talking Heads' Naked and David Byrne's Rei Momo, Uh-Oh and David Byrne. All arguably David Byrne's weakest albums with moments of brilliance. I could say the same for this album and Byrne's work on it. The songs aren't bad and some of them are even damn loveable (try not smiling to "The One Who Broke Your Heart"), but there is a slight cheese factor enhanced by the power horns and mid-to-late 80s Talking Heads-sounding titles such as "I Should Watch TV", "I Am an Ape" and lyrics such as "In the garden of Eden on a hot summer day, we were totally naked outside that small cafe" (The One Who Broke Your Heart). It's as if David Byrne has carried around a small notebook containing few key words to use in songs for the past 35 years.
Now, I love Talking Heads possibly more than anyone you will ever know, but we all have to agree, the mid-to-late 80s was not Talking Heads' shining time. Though it makes me happy to feels pangs of nostalgia, it also makes me cringe being reminded of such unfortunate creations as "Creatures of Love" (Little Creatures), "Radio Head" (True Stories) and "Big Daddy" (Naked). Cheese is a fine line that David Byrne has walked a long time.
As for the horns mentioned above, this is a horn-heavy album. Like, horns taking massive dumps everywhere. Though I mentioned they often add a corniness factor to the whole shebang, they also help strengthen some of the album's weakest songs including "I Should Watch TV" (Byrne) and "Weekend in the Dust" (Clark).
As for St. Vincent's songs, I respect and appreciate St. Vincent in so many ways but similar to the feeling I had the day when I ran like an ADD-riddled squirrel to the The Echo Theater in LA to see her support her first album back in 2007, I'm reminded that there is something missing for me. Maybe it's because I naturally don't gravitate towards female singers, but I feel that in terms of balancing the line of weird/unique and likeable/listenable, St. Vincent hasn't quite achieved it yet. Maybe she's just a MUSICAL GENIUS! that I don't get, but as compared to her male and much older counterpart on this album, she doesn't quite have his charm and popability (I also don't Joanna Newsom. THERE I said it!). A stand out St. Vincent track for me is "Weekend in the Dust" which has an essence of Siouxie Sioux.
Regardless of my gripes and the fact that this collaboration falls short of an actual collaboration, David Byrne and separately St. Vincent are always pushing the envelope and for that they deserve proper respect. And maybe a a two-month membership to a tanning salon.
Must listens: "The One Who Broke Your Heart" (Byrne), "I Should Watch TV" (Byrne), "Forest Awakes" (Clarks), "Weekend in the Dust" (Clark)