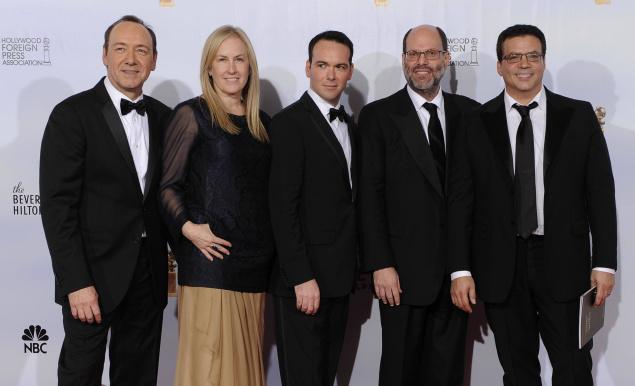 Dana Brunetti (center) at the Golden Globes with the producers of The Social Network (source)
I submitted a panel for SXSW Film 2013! Yeeehaw!
I'm so stoked!
The panel is titled "A Conversation with Dana Brunetti".
If you're not familiar with Dana Brunetti, he is the Oscar-nominated producer behind The Social Network and the upcoming film-adaptation of Fifty Shades of Grey (read his IMDB page here).
Pretty impressive, right?
Well, he is also the founder with Kevin Spacey of Trigger Street Labs, an online platform to help aspiring writers and filmmakers get their work seen by a broader audience. How do you like them apples?
If you're into the social mediaz, Dana is quite the social media star as well. Follow him on Twitter at @danabrunetti
The panel is set up Q+A style and will be an in-depth conversation on what it's like to be a producer in Hollywood and the intelligence, hard work and ambition it takes to succeed there. We will also discuss how Trigger Street Labs has helped connect fledgling filmmakers with Hollywood.
Unlike many of Hollywood's power players, Dana has a unique background that began with humble beginnings. His rise to the top is filled with fascinating stories and characters.
SXSW is currently in the panel picking stage, which means panels are open to the public for voting. Public voting consists of 30% of the selection process. If you're interested in supporting this panel, please log-in to your SXSW account (or create one– it's easy!) and hit the "THUMBS UP!" icon on the left of our panel's page.
Thank you for your time! This is an exciting first for me!