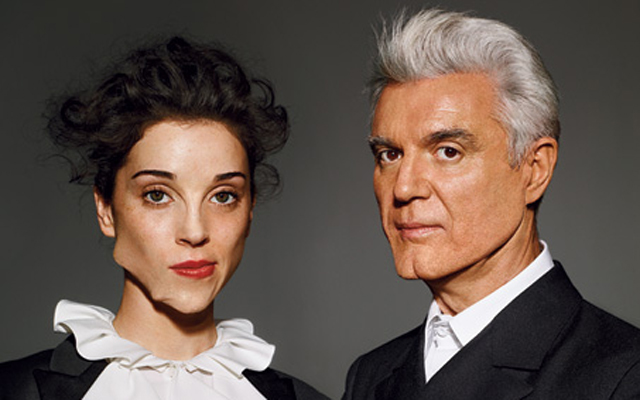 David Byrne can't stop making stuff and sometimes not all stuff he makes is created equal.
Take for instance his new stinkfest song "Who" with singer St. Vincent.
It is available for free download as a peek into the duo's new album together "Love This Giant".
I have to admit, I'm pretty disappointed with the song and I don't anticipate the rest of the album being that amazeballs either.
What I appreciate about David Byrne is sometimes the same thing that makes me cringe. He not only supports young talent by attending their shows and publicly speaking about them, but he often collaborates with hot young talent… and sometimes he shouldn't.
Sometimes David Byrne should stick with what he does best, which is write and perform inside his merry Davidbyrneland.
What struck me first about this song is how polished and classically-trained St. Vincent's voice is and how wobbly and not classically-trained David Byrne's voice is. DB's voice is an acquired taste which by itself is pure magic, but when paired with others who sing more "normally", sounds like a mentally-challenged goat trying to have his voice heard.
Add in the fact that "Who" is musically disjointed with St. Vincent and David Byrne sounding like they're singing two separate songs and you got yourself one of DB's smelliest creations.
I don't know, maybe I'm not being very open-minded, but I kind of miss David Byrne being, well, old David Byrne.
It may also be the fact that I tried very hard to like St. Vincent, but something about her rubs me the wrong way. So, I had to check myself and ask, "Ok, Lauren. Do you not like her because she's amazingly beautiful and talented?" The answer is, "I'm slightly jealous of her extreme beauty and talent, but mostly think she's comes across as a cold lady based off of her interviews, personal accounts from others and her songs." St. Vincent could use an image enema.
What do you guys think of the new collaboration by David Byrne and St. Vincent?